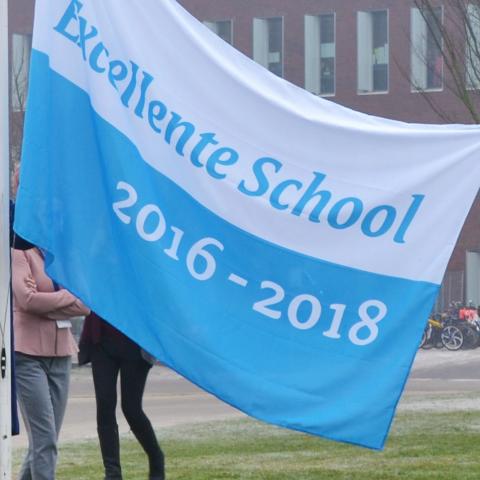 Internationale school Primary en School voor Jong Talent "Excellente School"
On Monday 23 January the Primary School of the International School of The Hague and the School for Young Talent of the Royal Conservatoire were presented the Excellent School award. ISH Primary received the award from Mrs Anke Buiteveld, director International of the Ministry of Education and at the School for Young Talent it was deputy mayor for education, Ingrid van Engelshoven who presented the award.
The schools receive this prestigious award in recognition of the high quality education that is offered. Both principals of the schools, Juliette van Eerdewijk (ISH) and Jan van Bilsen (SYT) were of course overjoyed and regard it as a recognition for the passion with which education at their schools is provided.  At ISH Primary "looking for learning" is the key distinguishing factor underlying the educational approach, whereas for the School for Young Talent, it is the opportunity that students get to combine their regular havo/vwo education with dance or music studies at the Royal Conservatoire in preparation for a higher education programme in music or dance. The School for Young Talent is a cooperation between Rijnlands Lyceum Wassenaar en the Royal Conservatoire of The Hague. The award has been given for a period of three years. Last year the award was given to Rijnlands Lyceum Wassenaar en Rijnlands Lyceum Sassenheim, also for a period of three years. Maarten Knoester, executive director of the Stichting Het Rijnlands Lyceum, is proud to see that the Rijnlands schools realise their ambition to move from "good to great".